TRAKAI CITY AND CASTLE
TRAKAI - THE ISLAND CASTLE
Trakai once was the capital of the Grand Duchy of Lithuania. The castle and museum Trakai is unique throughout Eastern Europe. It is of great architectural and historical value. Trakai castle was built at the end of the 14th century in the midst of lake Galve. In 1430 the Grand Duke Vytautas died here.
More Information and Pics on www.traveladventures.org
Please click to enlarge.
Due to its location on an island, the castle was never demolished so as to serve as a supply of building material for other projects. The museum depicts the landmark's various developments throughout history.
The National Opera's and Ballet's summer season has been staged in front of the castle for years. Over 200,000 visitors come to enjoy the shows.
NATIONAL PARK TRAKAI
The national park is located 28 km to the west of Vilnius. It is famous for its 200 lakes and pristine forests.
Lake Galve has a depth of up to 47 meters, and a total of 21 islands. There is an old legend that the lake will not freeze up until it has taken its toll by way of a drowning man. In order to prevent such miseries from happening, the people threw stone heads into the water to 'appease' the lake. Three of those heads were found under water, and can be viewed during diving excursions.
The ornithologic reserve Plomenai stretches across 314 hectares near the city of Trakai. It is the home of 88 bird species of which 66 breed in the park. The nearby Varnikai nature reserve accomodates 600 plant and animal species.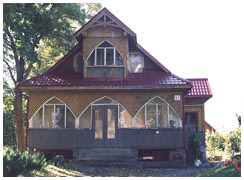 House of the Karaites in Trakai.
Trakai is the home of the Karaites. The people of this Turkish tribe came from the Crimea to Lithuania in the 14th century as members of Grand Duke Vytautas' entourage. Today there are only a few members of this ethnic group left in Lithuania.