SIGHTSEEING IN VILNIUS
Lithuania's capital was founded in 1323 when Grand Duke Gediminas built a fortress on the riverbank of the Neris. The fortress' ruins now are the town's landmark.
* CHURCHES

The church of Saint Anne, which was built in the 16th century, is considered to be a gothic masterpiece. Although the Renaissance had an influence on the city only over a limited period of time, it has left some notable monuments, above all the 16th century Gates of Dawn as part of the defence wall, Saint Michael's church, and some of the University courtyards.
The 17th century's Sts. Peter and Paul's church is a masterpiece of Vilnius' Baroque architecture. Its interior is adorned with approximately 2,000 biblical, mythological and historical statues.
At the end of the 18th century, during Classicism, the City Hall, the Verkiai Manor and the Cathedral were built. Lithuania's famous architect Laurynas Stuoka-Gucevicius designed the Cathedral based on the principle that the beauty of a building should not be determined by its adornments but by the harmony between its parts and the whole.
* THE GATES OF DAWN

The 16th century Gates of Dawn originally formed part of the town's fortifications. They were built into the original city wall. In 1671 Carmelites built a chapel in the gates dedicated to the holy Virgin Mary, reputed for her miracle-working powers. The chapel's interior was renovated in the neo-classical style in 1829. Pope John Paul II visited the site during his stay in Lithuania.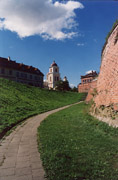 * GEDIMINAS FORTRESS AND MUSEUM

From the top of the 78 steps up the western tower of the Higher Castle, visitors can enjoy a breathtaking view of the city. Originating in the 13th century, the castle was rebuilt in 1419 by Grand Duke Vytautas following the great fire of Vilnius. In 1610 it was used as a prison, and during the 1655-1661 Russian occupation its towers and defensive walls were almost completely destroyed. Restoration work only began in 1930. The tower museum presents models of the castle in its various stages of development together with other exhibits of historical value.

* VILNIUS UNIVERSITY

The famous University was founded in 1579. It is famous for its impressive buildings of outstanding architectural value which are located right in the heart of the Old Town. Its twelve large courtyards and seminar rooms are well worth a visit. The University's library - one of the most outstanding centres of Lithuanian science and culture - has been serving scholars and scientists for 429 years. It even has an in-house printing plant. Visitors should not miss out on the magnificent ceiling paintings in the university book shop.